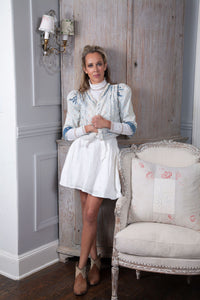 Interiors & Fashion
Gina Bowhill
Before moving to the States, Gina Bowhill worked for Asprey & Garrard, the Royal Jewellers. She styled actresses, celebrities, aristocrats for the Oscars, BAFTAS & Vogue photoshoots.

She helped organize events such as the King Charles's 50th birthday party at Hampton Court Palace and she oversaw the famous Couer de La Mer worn by Kate Winslet in the Titanic.
The Gina Bowhill Lifestyle Collections weave together a story of inspired & eclectic living that is reflected in the interiors she helps to create, and the wardrobe pieces she designs.
Her style is influenced by her English upbringing and her time spent with Asprey, Sotheby's and Christies in London.
Gina's effortless sophisticated style is offered through a collection of European antiques, home wares, clothing and accessories. Each piece carefully curated to help you elevate your style and tell your own fabulous story.
Gina also just released her first collection of feminine dresses under the Gina Bowhill label that are inspired by her favorite vintage pieces that she has collected during her travels. The line sold-out at their debut.
For Media Inquiries, contact us here.
Vintage Inspired
The Coco Jacket
Inspired by a favorite vintage piece, Gina designed the Coco Jean Jacket to elevate and soften the style of the rugged classic.
Perfectly puffed sleeves, fringe details, covered buttons, geometric detailing, and a cropped contoured fit create a feminine look that is perfect for layering over a dress.
Gina likes to attach an antique brooch to the lapel and wear layered over one of her favorite vintage silk slip dresses.
SHOP COCO Jacket